Ailanthone
[
customers have already purchased this product.]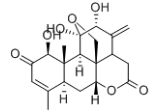 Product Name:Ailanthone
CAS No.:981-15-7
Molecular Formula:C20H24o7
Molecular Weight:376.4
Appearance:Brown Powder
Origin:Ailanthus altissima
Purity:98%HPLC
Package:20mg-1g
Storge:In sealed, cool and dry condition
Main Function:
1. Clearing away heat and dampness, removing heat from the blood to stop bleeding, arresting leukorrhagia and diarrhea.
2. Acts on the blood division of the liver channel to remove pathogenic heat from blood and stop bleeding, to treat leukorrhagia, metrstaxis and hemafecia due to blood-heat.