Agrimory Extract
[
customers have already purchased this product.]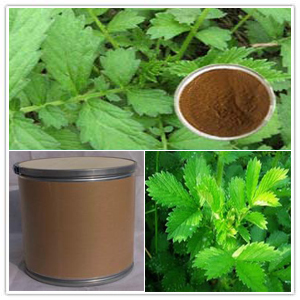 Product name:Agrimory Extract
Specification:4:1; 8:1; 10:1
Latin Name: Agrimonia Pilosa Ledeb
Functions:
1. Anti-most cancers, anti-bacterial and anti-parasitic.
2. Increase blood coagulation impact and hemostatic.
3. Anti-inflammatory of cardiovascular and easy muscle mass as well asconvergence hemostatic.
4. Have the functionality of nourish one's vitality and enrich the blood.
Applications:
1. As the raw materials of drugs, it is mainly used in pharmaceutical field;
2. As active ingredients of health products, it is mainly used in health product industry;
3. As pharmaceutical raw materials.
Product description :
Agrimony extract has a long history behind it. It was always used as a domestic medicinal herb by many of those who live in the country. The Agrimony extract is part of the rose family, and it is in bloom from June to September. This herb has beautiful leaves which add to its beauty.
This plant grows close to the ground. There are also flowers that grow closely together on.its little branches. What's more, this herbal plant has a sweet smell that is of apricots which makes it enjoyable to many.
During the Middle Ages, this herb was used by the AngloSaxon peoples for the healing of wounds and sores. They also used this herb as part of their ritual rites. It was believed that if a man put the herb beneath his head, he'd be induced into deep sleep.
Today, the herb is used to treat diarrhea, relaxed bowels, sore throats, and passive blood loss. For these treatments, a handful of the leaves or stems is dumped into a pint of boiling water. This solution can be gargled for the easing of a sore throat, and a teacup full, taken cold, three to four times a day, to get rid of diarrhea or help with the passive blood loss. And, though this herb is not yet fully appreciated by today's modern medicine, it is appreciated by many for its many virtues.