Phlorizin
[
customers have already purchased this product.]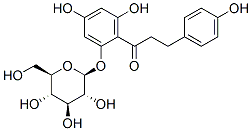 Product name:Phlorizin
CAS No.:60-81-1
Molecular Formula: C21H24O10
Molecular Weight: 436.41
Appearance:White to yellow crystalline solid
Description:The crystalline substance is white to yellow. It is of sweet taste and contains four molecules of water in the crystal.
Phlorizin is a toxic 2'-glucoside of phloretin. It belongs to the group of dihydrochalcones, a type of flavonoids. It is a competitive inhibitor of renal glucose transport.
Phlorizin is naturally occurring in some plants. It could be found in the bark of pear (Pyrus communis), apple, cherry and other fruit trees (Rosaceae) and is responsible for the petal color in Dianthus caryophyllus.