Hippophae Rhamnoides Yellow
[
customers have already purchased this product.]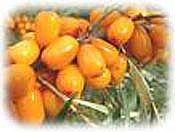 Product name:Hippophae Rhamnoides Yellow
Active ingredient: color scale
Packaging : cardboard drums, with double aseptic food poly bags inside. Or by cartons, with vacual aseptic food poly bags inside, 20kgs per carton with 8 bags inside,2.5kg per bag.
Product description:
Carotene and flavonoid flavochrome are the main parts of the hippophac rhamnoides yellow.We can see orange yellow powder or liquid extract with our naked eyes.It is easily water-soluble and without abnormal taste. It is absolute a natural pigment abstracted from the fruit of Hippophae rhamnoides by modern biotechnology.Widely used in cakes, hydrogenated vegetable oil etc as yellow oil-soluble coloring. This product has been exported to EU, Japan, USA, Asia etc.
The physical level and microbiological level can meet the export standards well.For avoiding fakes,this product already has normal enterprise NO: Q/KLE14-2005.