Cranesbill Extract
[
customers have already purchased this product.]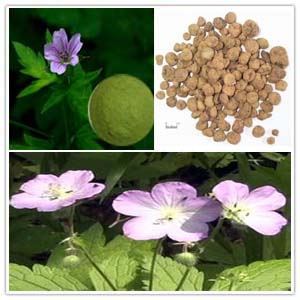 Product name:Cranesbill Extract
Product Specification:4:1; 8:1; 10:1
Plant Source Latin Name: Geranium Wilfordii Maxim
Functions:
1. Cranesbill extract contains flavonoid, catechin and tannin which can inhibit the duplication of many virus such as flu and HIV-I; its anti-flu function is most obvious;
2. Cranesbill extract can protect the liver from lipid peroxidation, reduce plasma cholesterol and the level ofGOT/GPT;
3. Cranesbill extract has anti-microbial function which can inhibit Shigella flexneri, colon bacillus and Pseudomonas aeruginosa.
Applications:
1. Applied in food field;
2. Applied in health product field;
3. Applied in cosmetics field.
Product description :
Cranesbill is a perennial herb, growing up to 2 feet tall with hairy stems. The leaves, which are arranged in opposite pairs, are usually divided into five toothed lobes. Five-petaled flowers (April-June) are pale pink to rosy purple and bloom in clusters at the end of each stem. The fruits bear a fanciful resemblance to cranes' bills.
An astringent and clotting agent, cranesbill is used today much as in earlier times. The herb is often prescribed for irritable bowel syndrome and hemorrhoids, and it is used to staunch wounds. Cranesbill extract may also be used to treat heavy menstrual bleeding and excessive vaginal discharge. Because of its tannin content, the rhizome (underground stem) of cranesbill acts as an external astringent (an agent that causes the skin and mucous membranes to constrict) and a hemostatic (an agent that stops bleeding). For the same reason cranesbill is probably effective when taken internally for diarrhea.